Contact: Ms. Rosa (sales manager)
E-mail: rosa@interfacingfabric.com
Skype: roseinterlinings
Tel: 0086-769-22022018
Fax: 0086-769-22022030
Address: 9th Floor, Hilton Plaza, Hongfu West Road, Dongguan City, Guangdong Province, P.R.China
Ironing method of adhesive lining and fusible fleece alternative
Ironing method of adhesive lining and fusible fleece alternative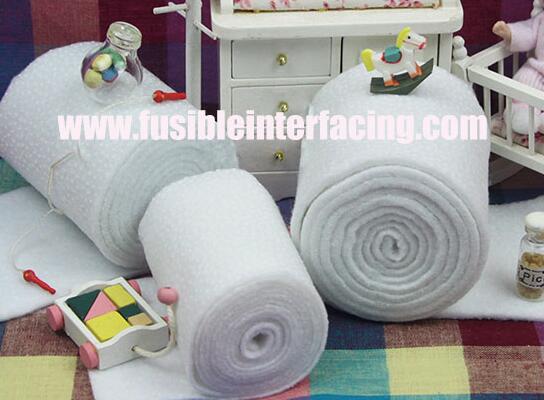 fusible fleece alternative
When you are making bags or craft projects, in order to solve the problem that the ordinary fabric is too soft and not enough stiff, ususally we have to attach a layer of fusible interlining or cotton on the back of cloth. But wrong ironing method could lead to adhesion stripping, cloth surface bubbling and other problems.
So how can we iron on the fusible interfacing smoothly and bonding firmly? You must correctly grasp the three elements of temperature, pressure and time.
The ironing temperature
Hot melt adhesive has its melting point, low temperature will not melt or completely melted, and high temperature can cause loss of viscosity. Generally, the ironing temperature of fusible interfacing should be controlled between 120℃ ~ 150℃.
The ironing pressure
The pressure of pressing is determined according to the thickness of fabric, the pressure of thin material should not be heavy, otherwise, it will result in glue seeping, Conversely, you can push the iron a little bit heavier on thicker fabric.
Pressing time
Ironing time usually takes 5 ~ 8 seconds, time is too short, melt glue too late melt, time too long can cause hot melt glue to penetrate or sublimate.
The above three elements also interact with each other. If the ironing temperature is high, the pressure and time can be reduced appropriately and the temperature is low, so it should increase the pressure and lengthen the ironing time.