2022 Fashion Clothing Color Trends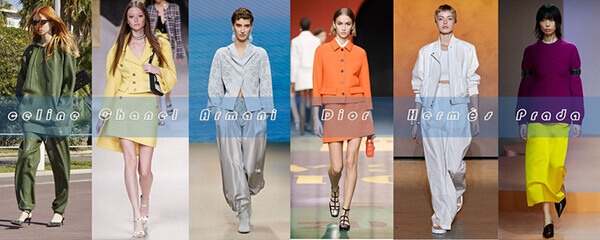 Luxury brands show 2022
Color is one of the important elements of clothing vision. 2022 will be a cautious but optimistic post-epidemic period, and the presentation of fashion language has become more enthusiastic and straightforward. Through color, we can deliver a positive mood, cure the tired body and mind of consumers, capture sensory fun, and create a fresh and familiar dress atmosphere.
Milky white: Give a person quiet and comfortable feeling, as a kind of practical warm white attune, won't limit somewhat to the age, have very strong inclusive.
Apricot orange: It can promote mood and happiness, enhance positive energy, can match 100 changeful design, practical value is very high.
Bright blue: If you want to choose a color that can calm people's hearts, blue is undoubtedly the most appropriate. Calm, quiet and strong sense of protection, ocean bright blue can be used in a wide range, can be combined with rich patterns to enhance vitality, can also be used as an embellish color in the dress to create a visual focus.
Butter color: warm butter color has been popular in luxury women's wear. In spring and summer 2022, it is more inclined to luxury and noble style positioning. Neutral appeal is also the color sense characteristic of butter color, so butter color has no sense of boundaries, so it can also achieve the purpose of attracting eyes when combined with other key colors.
Orchid purple: It is saturated bright color, with strong, vibrant characteristics, eye-catching and revealing dynamic, widely used in the field of sportswear, casual wear, fashion is fully utilized and influential with a unique texture.
Pigeon ash: pigeon ash is the product of the combination of nature and modern technology, with the ultimate easy grace, in line with the minimalist modern pursuit, suitable for different types of style.