Needle punched non woven polyester felt for crafts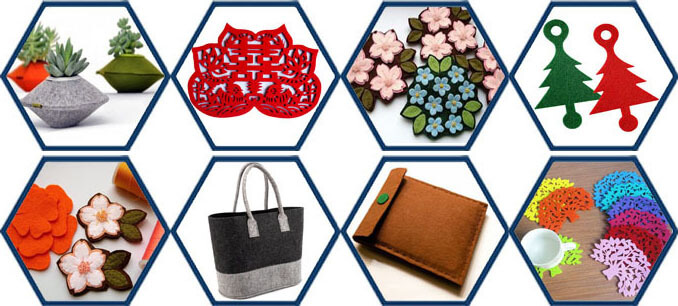 Needle punched non woven polyester felt for crafts
Staple fiber needle punched non woven fabric is also called felt, it is commonly used in industrial fields, especially for home textiles, handicrafts, toys, clothing, hats, footwear, bags, embroidery, and interior decoration materials. Non woven polyester felt fabric becomes the most popular logo cloth currently.
Taken polyester or acrylic as raw material, formed by needle punch for many times and properly hot rolling process. Paved with short fibers after loosen, carding, and netting, then put the web through the pricker reinforcement into fabric.
There is various characteristics about felt fabric. It has flexibility which can be used as shockproof, sound insulation, seal, gasket, home decoration products.
Felt fabric has the advantages of stable performance and structure characteristics, not easy to loose, can cut into DIY designs by sculpture. They also have goods extension, better elastic, bright color, comfortable hand feeling, not easy to fade and other feature.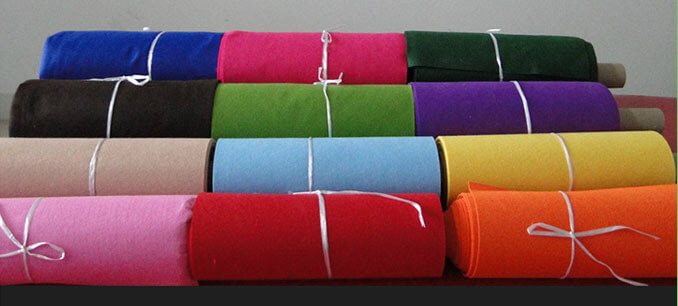 Needle punched non woven polyester felt
We focus on wholesaling polyester felt fabric for 6 years, familiar with it's features and usage. As Christmas coming, many stores and individual shop purchase polyester felt in bulk. Mothers can play their own creativity to make toys by hand. From 80gsm to 220gsm, 1mm to 3mm thickness, soft and hard feeling for your choice.
This is a real story, take our company as example. Before we took part in Canton fair, in order to save money, less use carpet. Therefore, lost some potential customers due to simple decoration. Until then, we found itinerant hawker sell colorful polyester felt instead of expansive carpet, very economical.
"Hi, we are looking for 100% polyester fabric to use as backing paper for our patches. It helps to keep the edges of patches neat when we cut them with heat.?" this is inquiry from one of our customers. Visibly, the demand and market of polyester felt is really big.